Well, today was the first day of the reason I came here to London: to go to class (eww, I know). For the first three weeks of class I'm taking Leadership in the Olympics, and it sounds pretty interesting. There are only six people in the class, four from America and two from England. We have two professors, and they both seem really nice. What's really weird here, is you call your professor by their first name, which I'm completely uncomfortable with. Even when I took conflict resolution (for a grand total of three weeks) back at SU and the professor wanted us to call him Dan (he was a really young guy and everything), I called him Professor Dan. That'll definitely take some getting used to. Both professors were wonderful in answering all of our questions, particularly about the grading system here in England since it's so different than America. They assured us that the class will be pretty easy. Obviously we'll have to do work, but they also realize that we're here to explore England. Today's class was only about half an hour, they went over the syllabus and answered our questions then dismissed us. Tomorrow will be our first class, from 10 in the morning until 1 in the afternoon.
After class, I decided to hit up the National Portrait Gallery. All I really wanted to see was the Tudor portrait room, but I decided to explore a little bit more (although I did three laps around that room to make sure I didn't miss a single detail). Although cameras weren't allowed, I sneaked a quick photo of the room when no one was looking.
It's a little hard to see, so let me explain the paintings here. The huge one is a cartoon (or sketch) Hans Holbein did for Henry VIII to hang in Whitehall (if you remember my previous post, Whitehall burned down, so the original is gone forever). There is a smaller replica though, just not here. Below is a picture of the replica. It shows Henry VIII standing in front of his father, Henry VII. On the other side is his mother, Elizabeth of York, and Henry's third wife (and only one to successfully give him a son), Jane Seymour.
On the left hand side of my photo there are four photos. Starting second from the back is Mary Tudor (also known as "Bloody" Mary), Henry VIII's oldest daughter by his first wife, Catherine of Aragon.
This copy of the painting doesn't even come close to doing it justice. There is so much detailing in the bodice of her dress and her jewelry it's amazing. You can even see the details in her hair. Nothing other than seeing it in person will even come close to how amazing it was.
The next painting down is of Edward VI. Edward was the only son of Henry's to survive. He ruled for a few years before dying around the age of 16, making room for his sister Mary to take the throne.
In this painting, he's meant to imitate his father's stance in one of the most iconic images of him. It looks a little weird on a little boy, but that just drives home how young he was when he took the throne.
The final image is one I was over the moon to see! Nobody knows with 100% certainty if it's an image of Katherine Parr (Henry VIII's last wife) or Jane Grey, the Nine Days Queen, who took the throne for nine days between Edward VI and Bloody Mary, only to be executed later on at the age of like 17. Well, I always said it was Jane Grey (probably because no real images of her exist and I wanted to visualize her). It's understandable why Jane and Katherine were mixed up, Jane was Katherine's ward until her death and was the chief mourner at her funeral, so they did live in the same household, which explains the confusion. Anyway, below is the image.
This doesn't even begin to do the painting justice. You can actually see that she's a lot older in this painting when you see it in person, which goes to show that it can't be Jane since she was only a teenager when she died.
I also saw a ton of other iconic pictures from Tudor history. Copies of them are below along with labels. A lot of them I used in my Pro-Seminar and NCUR presentations, not to mention my Jane Grey presentation from AP Euro. Just to see them in person was beyond words. I didn't want to leave. All I could think about was how these people, the people in history I love more than anything else in the world, actually sat down in front of this painting, probably touched it, adored it, commissioned it, etc. That alone was enough to blow my mind.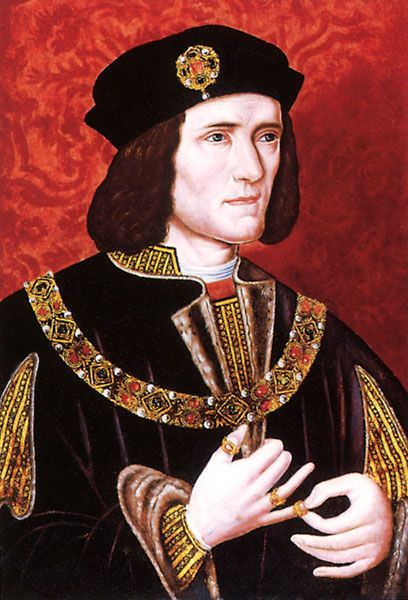 Richard III, the last York king, killed by Henry VII at the Battle of Bosworth Field, earning Henry the English crown and starting to the Tudor Dynasty, arguably the greatest English Dynasty EVER. Richard also killed his young nephews so he could get to the throne, and their ghosts still haunt the Tower of London.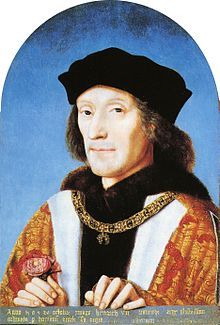 Henry VII, first king of the Tudor Dynasty. His marriage to Elizabeth of York ended the War of the Roses and brought together the feuding houses of York and Lancaster to create a whole new line to the throne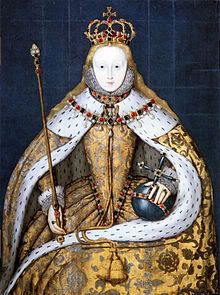 Iconic image of Elizabeth I at her coronation I believe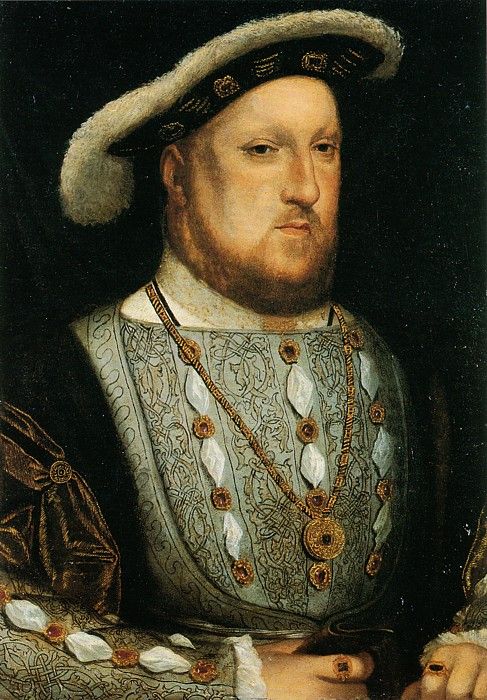 And I saved the best for last. The one, the only...Henry VIII!!!!
Unfortunately, the painting of Anne Boleyn wasn't there for some reason. I may go back to see it later on, because she's one of my favorites (although Kathryn Howard will always be my number one favorite). I was really disappointed, especially since I dressed up as Anne for Halloween this past year. Oh well, now I have a legitimate reason to go back there!
Today I also learned something pretty interesting at the gallery. The people who work at the museum take special care in hanging up the portraits. They take into account how the artist wanted the painting viewed. For example, portraits of monarchs are usually hung a little bit above eye level so you're looking up at them to show how important they were. I'd never thought of that before, and I thought it was so interesting.
I also had a wonderful conversation with a woman in the gift shop at the museum. This is how you know I'm in heaven: I'm looking at these adorable little plush-like Christmas ornaments of famous Tudor figures (Henry, his first four wives, Shakespeare, Mary, Elizabeth, etc), and I'm looking for Kathryn Howard. I'm talking to myself and say "Oh that's not Kathryn," and the lady next to me says "Catherine of Aragon?" I say, "No, my favorite's Kathryn Howard. I have no idea why, I've always felt bad for her, her and Jane Grey, they were so young and didn't do anything wrong" (ok, Kathryn was an idiot, but what would you have done in her shoes?). Not only did the lady know exactly who I was talking about, but we talked for a few minutes about Kathryn Howard! I also told her about my Anne Boleyn costume for Halloween, completely with necklace when we saw replica Boleyn necklaces for 20 pounds, she thought it was awesome. I'm pretty sure I'm in heaven now. At home, when I try to talk about stuff like that, nobody knows what in the world I'm talking about. I could definitely get used to a place like this.